Every year since I was 4, I think, my mom has had our family get Fall Portraits taken. We never went anywhere professionally, but my mom had a beautiful manual Nikon that she would use to get a great shot. This tradition has lived on in our family, and at 26, I am now the family Photographer. :)
Mom would have a frame with a fall picture in it on the table beside her chair, and she would never take out the year before, she left them all in there so when you pulled the little 4x6 frame apart, you could slowly see us grow and change. It was almost as though our childhood exsisted in that little 4x6 frame on my moms sidetable. I want to keep this tradition alive, no matter how much the men in our family groan when it comes time, they will come to appreciate getting to see their family grow year by year.
The three musketeers, Jacob (10), Griffin (8), and Liberty (3)...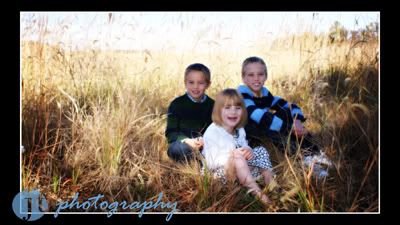 I can't believe how much they have all grown :( I wanted them all to stay babies forever...