Here is #2 of today's cards.. Mr. Wyatt is our subject this time :)
A 5x7 folded card is the most common card used for Christmas today. This is pretty much a standard size card. There are 4 areas for design and lots of room for portraits to fit. I chose a simpler approcah to the front of the card, not only because simple is chic, but I have a pounding headache right now, and this seemed like the least time consuming since I plan on taking a nap with Libs after I post this blog. :(
And I really didn't have to put much more on this card seeing as Wyatt is the best thing about this one :)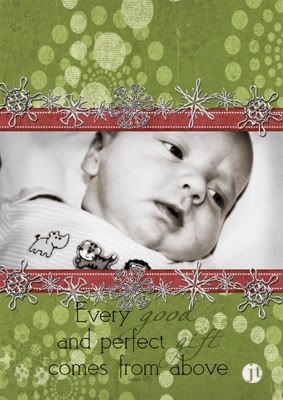 As always, envelopes are included in every card order, and
if you schedule a QuickTake from now (11-6-08) till the 27th (our cut-off date for Christmas) I am going to design a card featuring your session and put it on your proof dvd.
I am getting such a response from these cards, so I figured I'm more than likely going to be designing one for every QuickTakes customer anyway! Why not add more of an incentive! :) Get your QuickTake booked now, I have some openings this Saturday if you would like to round up your crew for some portrait therapy :)
ALSO! These designs can be made into a photo collage to be put on a gallery wrap! You can hang these beautiful gallery wraps in your home or give them as gifts to your friends and family! What a spectacular gift idea!
If you would like to book, please call me at 419.203.0889!