I want to sincerely apologize for lack of posts. Life has exploded lately. More on that later.
I'd like to share in one gigantic post what I have been up to for the past few months. Ready? It goes like this...
Spring Quicktakes were a blast! We had so many families this year that I am unable to post all of them. I'm so happy to offer this year after year. I got a really sweet thank you card from a client (you know who you are m'dear!) that told me she would not be able to afford to book a full family session because both her spouse and herself are still looking for work after being laid off for a year. However because of the Quicktakes sessions I offer twice a year they are able to not sacrifice getting professional images of their family. That really warmed my heart!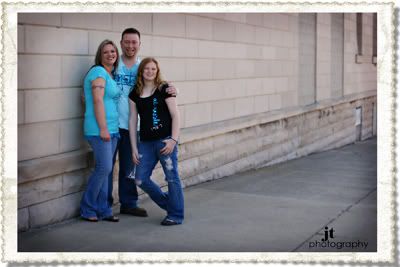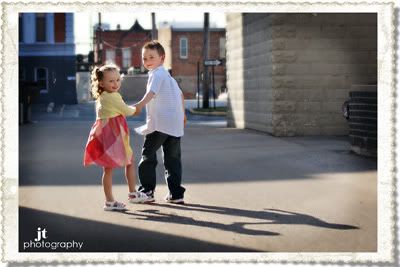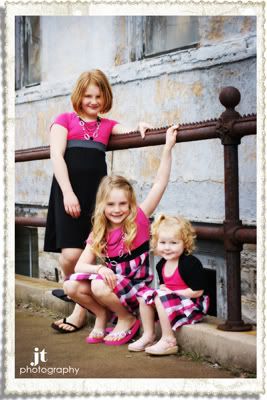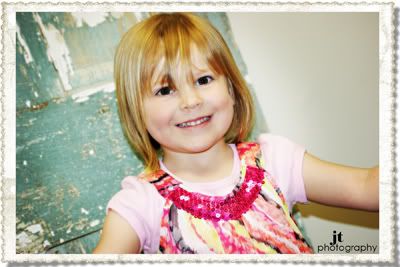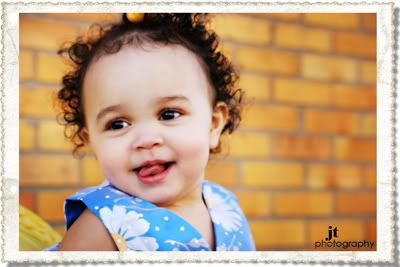 Thank you to all my QT's :)
Next up is someone who is very special to me. Meet Jen. Aka Jen-Bug, Jen-R, Consuela, and my high school sidekick. This girl knows every secret, every smile, every joy, every sorrow in my life. I recall nights filled with cruising, jamming out to Pink Floyd, scalp massages, laughter until tears, popcorn and peanuts (wink!), and general insane chaos resulting in picking up dirty hippie boys at intersections, so many concerts and hopes and dreams. Some of these aspirations didn't come to fruit, but I couldn't imagine life any different. I guarantee though that even if we had gotten a Victorian on the Haight, I would have become a pro surfer and she, a elephant trainer or wildlife photographer (Yes, these were our aspirations! Ha!) that the story that followed would not be as incredible as Jen and Ron's story.
Jen is a jewelry consultant for Lia Sophia. If you know Jen, this so suits her because she was the girl wearing a ring on every finger (enter "Sugar Magnolia" by The Grateful Dead... "She had rings on her fingers and bells on her shoes, and I knew without askin' she was into the blues.") and 4 bracelets on one arm. Anyway (I'm rambling!) she achieved a goal and was invited to go on a cruise. Enter Ron, who worked on the ship. They met, spent every moment possible together, and stayed in touch for years until he was able to quit the ship and move to Van Wert to finally be with Jen. I am happy to say they are married and I was Honored (With a capital H) that Jen asked me to photograph this very important beginning.
Jen I love you! I am so happy to not only meet your husband, but to also meet the man who can finally love every special, amazing, unique, important, perfect detail about you. You deserve this happiness. :)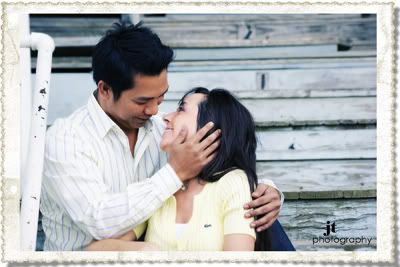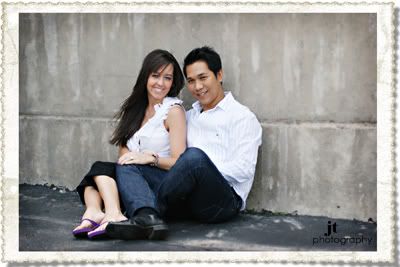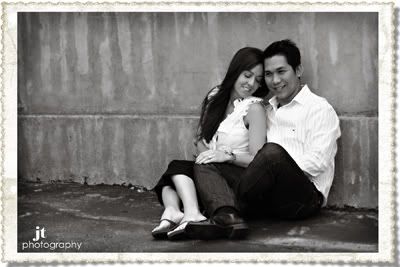 Jen was not the only amazing union I was able to witness. I am so happy to announce that my "pseudo little sister" has found her Grand Slam :) Caitlin has been many things in my life. My daughter Libbie's first babysitter (And still reigning torch holder in that position as well. Sorry to the others, she always cleaned my house. And yes, that included dishes.), My very first Senior shoot, an amazing friend, and one of the two best little sisters I could ever ask for. When she called me and said "Would you rather shoot my wedding or be in my wedding?" My answer was, "Duh, I want to be in your wedding!" So I was a bridesmaid a few weeks ago when Cait and Phil tied the knot. :) Libbie was her flower girl, and Cait knows Libs so well that she let her wear Twinkle Toes. (If you don't have children who watch Nickelodeon for the commercial that my daughter knows ALL. THE. WORDS. TO. they look like rhinestone encrusted, airbrushed, glitter infused converse chucks.)
Here are a few shots I took on Cait's family's farm. I love you guys! Congrats Ginger!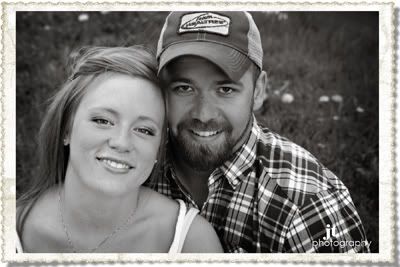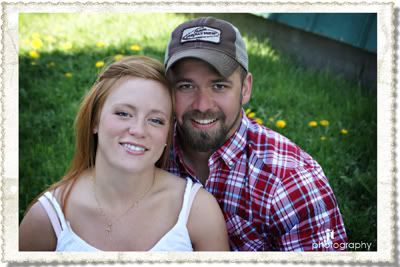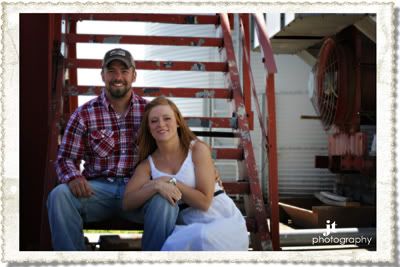 So I am WAY BEHIND on posting Dylan, because the boy is a year old now and I am just now posting his 9 month pictures. Take away my Aunt of the year award. Immediatley. :(
As this little guy grows he just wraps his chubby little hands tighter around my heart. I just want to explode kisses all over his cheekers!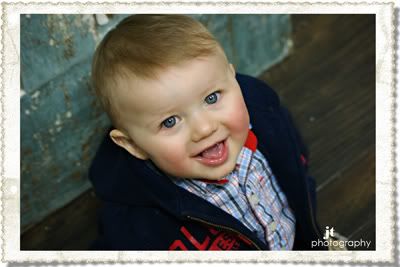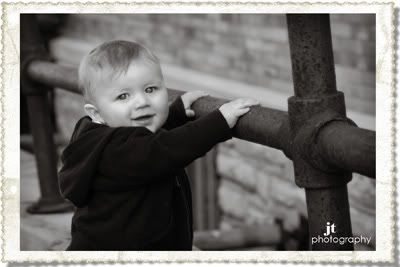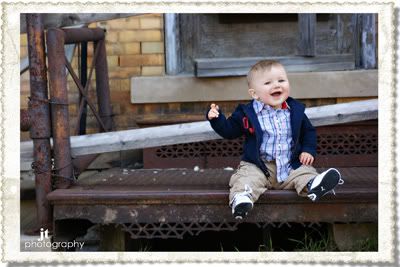 Hello! Cutie Pie Contest? FIRST PLACE RIGHT HERE!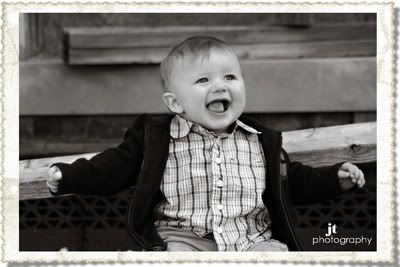 I have more to blog and I will soon. Now onto the reason I seem scarce...
Alot has happened in the last 3 months. Big things. Things that made my life explode and made priorities change.
First, we had some MAJOR computer difficulties here and had to go to a whole new system. Thank GOD Almighty that nothing was lost. Everything is backed up twice, but I learned my lesson and there fore I had to change the system I had going to accomodate never having to deal with that mess again. I like change, just not change that affects my daily work flow. Makes me turn into a very angry person that no one likes. Myself included.
Second, my baby is mobile. My Lyric now rolls from one side of the room to the other. Meaning I am running from one side of the room to the other. My days that once were very easy to manage business life and only a self-entertained 4 year old, are now managing business life, a 5 year old, and a 6 month old, lots of crying, lots of the 3P's (For those of you that aren't experienced in the 3P's: PeePee, Poopy, and Pukey), and lots of late nights on no sleep. Double the no sleep. Remember Naps? Huh? Huh?!! I am joyful however that even with the lack of sleep that she can remedy me with her morning smiles, hiccup inducing belly laughs, and the bond that already seems unbreakable with above mentioned self-reliant (and incredibly adorable) 5 year old. :)
Thirdly, My dad has cancer. It makes me sick to even type it. I have finally come to terms with it and it's not any easier by any means, however it has sunk in.
Im gonna get sappy, so go grab a tissue.
I'll wait.
You might want the box. I'm not lying. Go.
Ok... Here goes.
My dad. He's amazing. He's always put my mom and brothers and I first before anything else. These words I'm typing don't even compare to what he is. He has taught me so much in my life. Hell, I was even harrassed because a girl was JEALOUS of the relationship my dad and I had. He's always taught me what a man is.
A man is Godly. And teaches his children to be spiritual as well.
A man takes care of his family. Even at the expense of his comfort.
A man never abandons his family. There are no breaks for a husband or dad.
A man loves his wife and provides without cease.
A man disciplines his children in appropriate times, and only out of love and a lesson.
A man teaches his children to work hard for everything they have. Nothing in life is free or easy.
A man gives charity and teaches his children the value in that.
A man appreciates the time taken with his children and his wife.
A man says I Love You, hugs, kisses, and holds hands with his wife every day, anytime, no matter who is around.
A man respects.
A man laughs with his kids, cries with his kids, comforts his kids and gets angry as hellfire when his kids are wronged.
A man stands up for his family.
A man loves so deeply, that if she have to tell his kids that he has cancer the very first thing he says through hard tears after "I have liver cancer," is "and I just love you kids so much and I never want to leave you."
Those words will never leave me. They will always be with me. Because I know how true they are.
I can't remember a time growing up that my dad wasn't there. I don't think (other than when he was out of town for work) that a day went by that I didn't have a coversation at the table or hug and kiss my dad goodnight. Those two things were constant. When Troy and I moved away to college, we came home every weekend. My parents thought it was to see our friends, but it was mostly to feel "home". Home to me is a big Cape Cod house that my dad built for my mom. Inside the doors are the two people who are the heart of it. Theres just a warmth i get when I walk through the door and hear dad yell "Hell-oo" from his chair at the kitchen table, or the sound of a saw and the smell of sawdust coming from the garage. His laugh (which he has passed on to me). The way he SMOOCHES my mom. He's the king of the insanely loud kiss. I can distinguish his walk from my brothers walk from anywhere in the house. I know the sound of his breath. The look on his face when he's thinking. Or upset. The quiver in his chin when he's talking about something he's passionate about. The way he whispers to himself when he is concentrating. His hands. His inviting spirit. How he answered his cell phone, "Weigand, this is Boose." I just want to tuck all these things in a vault so I never forget them if he doesn't heal.
I'm through the anger of this. Through the denial. Now it's real to me. And it just hurts so bad. I love him. I love him so much.
The official diagnosis is Stage 4 Lung cancer that has spread to the liver and bones. He has started chemotherapy, and is on his 3rd cycle of the first round. He is doing AH-MAZ-ING. Still taking mile walks with mom, still fixing everything in the garage, still doing his Honey-Do list for mom (and running out I must add!). He's so strong. I knew even before this happened that nothing short of an atomic bomb could knock the wind out of this man's sails. I'm just fearful of when the bomb of chemo will begin to take it's toll. But I have a very awesome family and he will be taken care of no matter how much he resists being helped. Didja hear that dad?! We are gonna drive you crazy with love :) Aww :)
We appreciate all your prayers and Dad and Mom are overwhelmed with the cards, visits, food, gifts that they have recieved. If you would like to send them a card please email me (jtphotography@live.com) for their mailing address (my mom would beat me senseless if I published their address on my blog!)and I will send it along.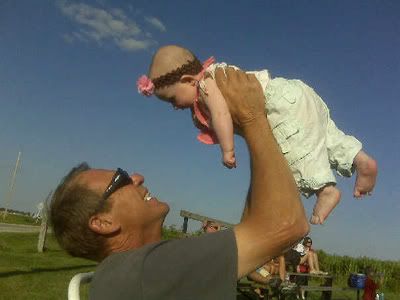 Please also put him on your prayer chains at your church or prayer group. His name is Lewis Painter. Or Boose to those who know him :)
And Im sorry for all the spelling errors, as I was typing through teary eyes.