I promised pictures so here we go, and keep in mind, these pictures are from when we weren't even sure we had it yet. It's honestly looks COMPLETELY different already, so imagine it with no carpet, the borders on the walls missing, and the walls knocked down where the dressing room was.
We ripped up the carpet and found beautiful OLD wood floors. They are absolutely fabulous! I am hoping they are still in good condition when we are done, this has been quite a job, to say the least!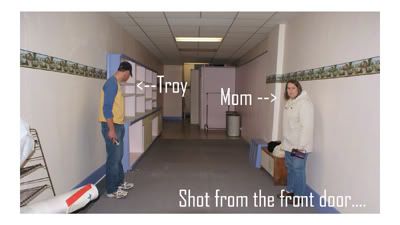 I hope to transform this place into the studio of my dreams. I am already in love with it and it's not even done! We still have minor cosmetic things to do such as paint and furnishings, and my husband and dad are building walls in the next couple weeks. I am working with my best friend, and Interior Designer, Erin Wilson who is out of Seattle to completely nail the style I want. I am so lucky when it comes to friends!
My hope is to have this all ready to go by Jan. 1st, but since I'm a wishful thinker :) it could be later than that, but please keep in mind that I am still taking appointments and I'm ready to shoot in the snow!!!!!! I can't wait for my first snow appointment, we have been getting close, but today has been our firt cover, and it just makes me excited to get out and shoot. I have some great ideas for a senior girl in the snow, who is going to do that portrait for me? Hmm, if your 2nd shoot is still up in the air, this might be a great time to shoot!! Like my persuasive skills? I'm so smooth...
SO I will post more pictures next week, hopefully we can do a week by week studio update! :)