My friend,
Leigha
that I have been blogging about for prayers, went home to Jesus yesterday morning.
Yesterday was going to be hard already. July 14th is the day 3 years ago that our family lost a brother, Ryan, to canser. When I awoke, I then found out that Leigha had also passed. Yesterday was probably one of the hardest days I have faced in a long time. Probably since Ryan's passing. I still am blank. It's just surreal.
My heart tells me that I know where Leigha is. Her unfaltering faith, in my opinion, kicked canser's butt. Kicked it hard. All around town. And into outer space.
I'm trying to view her last moments not in pain, but in joy. I imagine her seeing Jesus's face and his arms open wide. Giving her a hug that sends warmth and healing all throughout that broken shell. All the sickness washed away. Feeling the excitement of a child, the feeling of true love in Jesus's arms. He then holds her hand and walks her into the most bright, golden and shimmering sight her eyes have ever seen. Her mind says, "This is Heaven."
We held a vigil in Leigha's honor last night at the studio. Nearly 100 people showed up, on hours notice, some from Columbus. I wanted to document it with my camera, but then I realized, no matter if I document this or not, for those who were there, it won't ever be forgotten. So I didn't take a single picture. We shared memories, hugs and tears last night. And it healed a little bit of my heart last night.
On my way home, I was barely listening to the radio. Thinking more than listening. But then the song I have posted above began to play. I had to pull of the side of the road. I cried. I screamed. I prayed. And this song will forever be Leigha's song to me.
I know some of us are sad, some of us are angry. Why so young? She didn't even get to begin. But I can tell you something that Leigha did, that most of us will probably never do. She fulfilled her purpose here on earth. I know this because of faith. God tells me in my heart that her purpose brought more people to Christ than one person probably ever could. Sure there are television preachers, and evangelists who speak to sold-out conferences, and auditoriums; But Leigha, armed with a laptop, and a fiery will to beat canser, brought people who probably would have never begun their journey with the Lord, to Him. Through a blog. Through Facebook. Through MySpace. Through a message. God's message. If God is with me, who can be against me?
I think the hardest part of Faith is understanding. But I think Leigha, totally got it. She could have picked any verse about healing to present to you on her blog. She could have picked a verse about courage. But she chose to pick one about Rejoicing in the Lord!
"Rejoice in the Lord always. I will say it again:
Rejoice!
Let your gentleness be evident to all. The Lord is near. Do not be anxious about anything, but in everything, by prayer and petition, with thanksgiving, present your requests to God. And the peace of God, which transcends all understanding, will guard your hearts and your minds in Christ Jesus." Philippians 4:4-7
A joyful heart can trump any disease, any addiction, and inner conflict. I've met people who are decades older than me that still have not learned this. But Leigha knew. She even knew through canser.
I ask you in closing, to please send a prayer up for Leigha.
But send one in joy.
Pray that she is enjoying her eternal life in Heaven. Pray that she got to touch God's face. Pray that she got to feel the flutter of angels wings. Pray that she is the happiest she could ever be, a happiness that could never be found on earth.
Please also send a prayer up for her family. They are hurting. They are in terrible pain. Pray that the memories trump the pain. Pray that God scoops them up and cradles them like children. That he catches every tear.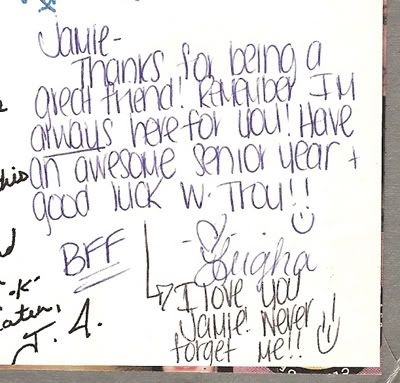 I love you too, beautiful. I could never forget you.